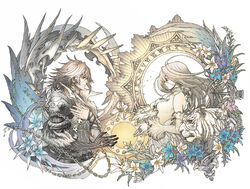 夢幻終章 The Last Story 是可從鬥技場進入的限時合作活動關卡,首見於2015年4月23日,將於2015年6月30日結束(UTC時間)。
此限時關卡使用了原作的人設及音樂。The Last Story劇情會隨戰鬥中玩家的行動呈現不同分歧路線,最終將有四個不同的結局。
The Last Story

| 消耗體力 | 難易度 | 戰鬥次數 | 敵方魔物 | 經驗值 | 金幣 |
| --- | --- | --- | --- | --- | --- |
| 40 | 65 | 10 | | | |
Battle 1
Battle 2
Battle 3a
Battle 3b
Battle 4
Battle 5
Battle 6a
Battle 6b
Battle 7
Battle 8a
Battle 8b
Battle 9a
Battle 9b
Battle 10a
Battle 10b
由於大部分敵方腳色為仗或弓職,此關卡使用劍職會較為理想,若使用槍職可能會在多數關卡受到雙倍傷害,此外弓職會在其中一關卡較為弱勢,魔法(電暗火冰)傷害將會受敵方魔抗影響,低落劍職許多。 此關卡會有十小關,所以記得組上治療職業,以便維持隊伍續戰能力。
輸出推薦
自身攻擊1.5(1.2)倍角:
武器隊 隊伍內有相對應高輸出武器職業
其他主要劍職輸出
次要劍職輸出
其他主要物理輸出
支援
不推薦
(譯註:第九小關卡需要非物理傷害破BOSS盾)
Perfect Fate
编辑
滿足通關條件可獲取最多兩個腳色- Zael 及 Calista :
防雷:本節劇透了任務的秘密獎勵及部分對話。需參考請點擊"展開"
(Click here to skip this section).
需在50秒的總體控制時間(十關總和控制秒數)以內完成。腳色的初始控制時間為4秒(未受技能道具影響),類似玩偶展,盡可能快速夾擊附近的目標,這會讓控制時間最低降至0.4秒。
如果通關但,但未能在秒數內完成只能得到卡莉絲塔
隊伍組成
编辑
至少編入兩個強大的物理角,如巴爾、馬庫利、史奈普、朔。視主力夾擊角色加入卡波里、馬尼曼、盲槍(武器相剋增強、無效)
至少一位屬性攻擊型角色,需有多種屬性攻擊,第九小關需藉多次屬性攻擊才能順利達成。如巴格納有四招屬性攻擊,其中一招可以在連鎖時觸發,藉由連鎖在同一回合內達成五次屬性攻擊,此外限時關卡獲得的巴哈姆特及利維坦有五招屬性攻擊也是很好的選。
可以帶上增加控制時間的角色以防萬一,但通關條件使此技彌補失誤的機會減少
基本隊伍組成:
物理攻擊
物理攻擊
物理攻擊
物理攻擊或第二屬性攻擊
屬性攻擊
治療者-建議戴上有全體治療的角色,部分敵人能一次擊中隊伍全員
NPC隊友:艾札
勝利條件:擊敗迦楠
時間限制:無,但女主角會一直招小怪,所以越快越好。
If Calista is hit, it is still possible to complete the sidequest, but the Floor 4 condition will be more strict.
It is best to finish Calista in one or two turns. Make a fast vertical pincer and don't worry about getting everyone into the chain.
若迦楠被擊中會增加第四層的困難度,但不會失去perfect fate的資格,快速地做出上下夾擊以求能在兩回合內擊倒迦楠。
If the Floor 1 condition was failed, Syrenne will not appear, and the Floor 2 condition can't be fulfilled. It is still possible to complete the sidequest, but the Floor 4 condition will be more strict.
Floor 3
编辑
Time: Wipe out several enemies quickly, then use short movements to finish the floor and set up for the next.
No requirements. Clear the floor to advance.
Preparing for the next floor: Set up your units to pincer two of the enemies on the next floor.
Floor 4
编辑
Guest: Mirania
Victory: Defeat all enemies.
Condition: End the battle within five turns. (If a previous Floor's condition was failed, end it within three turns.)
Success: "The ship is this way."
Time: Rush.
The Venomous Ghoul enemy will put up a shield every other turn, rendering it nearly impervious to damage. This means there are only three turns where it is vulnerable, or two turns for the harder condition.
Preparing for the next floor: Try to set up for pincering the middle row, or two middle rows if possible. Spawning enemies will push your units to the left, then the top, so put two units near the right edge and two units that can be pushed into the left edge position.
Floor 5
编辑
No requirements. Clear the floor to advance.
Preparing for the next floor: Put a unit right below the spawn location of the next floor's middle enemy, and have a PP next to it for a vertical pincer on that enemy. This allows Yurick a short path to a vertical pincer, and his Inferno with a Powered Point will guarantee three Yurick kills right away.
Floor 6
编辑
Guest: Yurick
Condition: Kill at least four Golems (ice) with Yurick's magic.

Yurick's magic must deal the final blow. He has an AoE(self) and a 1% spell which hits random squares. Both of his spells fail to OHKO an enemy by themselves, so you should use PP or lead a pincer with him.

Success: "Well, we made it...somehow."
Failure: "They didn't stand a chance!"
Time: After the initial pincer, feel free to finish the rest off with flicks.
The monsters here (6 in total) are vulnerable to Fire and absorb Ice. Yurick must kill at least 4 enemies. For an easier time, use a Powered Point to activate his Meteor. Any leftover enemies can be killed with his Inferno (area 1).
Chain order matters. If an enemy is at 0HP by the time it is hit by Inferno or Meteor, it doesn't count as Yurick's kill. For best results, use Yurick to lead a pincer from the bottom or left side of an enemy so that his skills activate first. (See this chain order guide.)
The Golems won't move until there is only one left, so it is safe to make fast, weak moves.
Floor 7
编辑
No requirements. Clear the floor to advance.
Floor 8
编辑
Guest: Lowell
Condition: Don't end the battle before the sixth turn.
Success:
Failure:
Time: It is both safe and necessary to take many turns on this floor. Make short, weak moves.
Nullify Healing will be cast on the party at the start of the battle. Though the condition can be fulfilled in six turns, it is recommended that the battle not be completed until the ninth turn, when Nullify Healing runs out.
The Muruks will move and use Breath to knock away units without doing damage. If one is left as the last enemy, it will cast Inferno Breath, All every turn.
The Golems (fire) will not move, and they will alternate between Inferno, Vertical(2) and Inferno, Horizontal(2). If one is the last enemy, it will randomly cast one of its two Inferno spells, and then try to move between your units for the next cast.
Ideally, leave two Golems alive, so that they won't move, and can be pincered and killed when ready. Be sure to set up for the next floor in those nine turns. If you need help with the initial placement of enemy units in all floors, see here. (Courtesy of Brakkis at Terra Battle Club.)
This floor does not require big movements, and very little movement time should be spent after the initial pincer. Lowell casts a Fire shield on the units around him which will help keep them alive without healing, and his ice damage can be enough to kill Golems.
Preparing for the next floor: Have units near the top-right corner, so they are ready to take down Mitra. You may want to keep bows away from the very top row, as they will be hurt by Zael's first Sword attack.
Floor 9
编辑
If you do floor 4, 6, and 8 right, Mitra will appear. Kill Mitra to advance to the next floor but Zael must not be killed.
There are two main strategies to quickly kill this floor.
Kill the sparks first, as they will continue to spawn as long as one is left.
Surround Mitra, keep it locked in place, and defeat it in a few turns.
In either case, setting up should be done on the previous floor, where it is safe to make small, quick movements to get into the desired positions.
To remove Mitra's damage mitigation barrier, hit it with 9 instances of magical damage. If, for example, Pizfer unleashes 5 different magic skills in one pincer, you only have to do 4 more instances to nullify Mitra's barrier, not 8 more. If Mitra doesn't levitate anymore, it means the barrier has been removed.
Floor 10
编辑
Kill the boss to win the battle. You need to use Zael as pincer lead when last hitting the boss, so keep him alive. The minions in this floor buffs the boss' DEF&MDEF by a large amount(150% of DEF&MDEF each) when adjacent to the boss (it also buff other minions that are adjacent to it, which is why the minions on the boss' corners are more tanky). The minions can also call for minion reinforcements when some minions are killed so you may need to kill as many minions as you can at once to reduce the boss' defenses. However, new minion reinforcements will not move immediately, so there is a slight delay until the boss' defenses are buffed again. When the boss is at low health (about 30% or less), it will call up to 6 more minion reinforcements, but as written earlier they will not move immediately and won't buff the boss' defenses if they are not positioned adjacent to the boss, so at that point it might be better to ignore them and just kill the boss fast.
Enjoy the ending. If you do the above correctly, you should get both Zael and Calista (Perfect Fate). If you get Calista but not Zael (Alternate Fate), it means you take longer than 50 seconds of drag time in total. If you get nothing, it means you didn't fulfill some of the requirements above (Contrary Fate if Mitra did not appear on floor 9; Blind Fate if you killed Zael on floor 9 or Zael did not hit Calista on the last turn).
此關卡無等級上限,如果能力不足以通關,可先練級再嘗試攻略關卡
高物傷腳色是隊伍組成的第一順位,尤以劍職為甚,弓職需注意第九小關劍職頭目(這邊也需要非物理傷害破除頭目的飄浮盾),此外,屬性傷害在本活動關卡只有第六、第八小關較能發揮。
隊伍全滅使用體力接關仍可獲得新腳色
再次獲得新腳色會提升3% skill booost
本限時關卡原定於2015年五月31日結束,但在5月22日延時至6月30日
---
您使用了广告屏蔽软件!
Wikia通过广告运营为用户提供免费的服务。我们对用户通过嵌入广告屏蔽软件访问网站进行了使用调整。

如果您使用了广告屏蔽软件,将无法使用我们的服务。请您移除广告屏蔽软件,以确保页面正常加载。